6. Apps for Common Tasks
Here's a list of applications used to perform common tasks, they're all installed by default and are all high quality, but naturally you can replace them with alternatives if you wish.
You can find more replacements for your familiar applications here:
http://en.opensuse.org/Application_equivalents
6.1 Surf the Web with Firefox
Mozilla Firefox is the default web browser. It's one of the world's leading web browsers.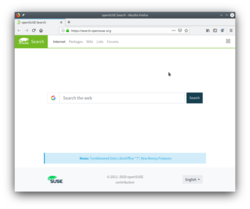 Alternatives to consider: Rekonq, Opera, Chromium, Konqueror
6.2 Office Productivity with LibreOffice
LibreOffice is a complete office suite with word processing, spreadsheets, presentation, drawing and more. It's very compatible with Microsoft Office.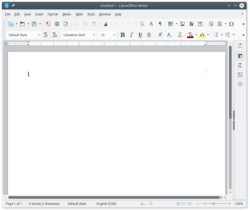 Alternatives to consider: Calligra, Abiword, Gnumeric
6.3 Listen to Music with Amarok
Amarok is a feature rich music player that handles your music, podcasts, portable music player or iPod etc. Read about codec installation in a later chapter.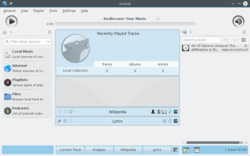 Alternatives to consider: Clementine, JuK, Qmmp
6.4 Watch Video with Dragon Player
Dragon Player plays videos and DVDs. Read about codec installation in a later chapter.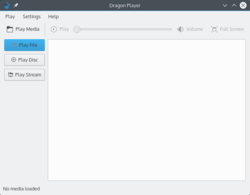 Alternatives to consider: VLC, SMPlayer, mpv
6.5 Image Editing with GIMP
GIMP (GNU Image Manipulation Program) is a very powerful image editing application.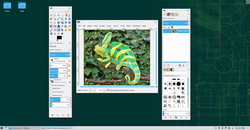 | | |
| --- | --- |
| | GIMP can work as a single window, simply click 'Windows' in the menu and check the option 'Single-Window Mode'. |
Alternatives to consider: Gwenview (only very basic editing)
6.6 E-mail, Calendar, News feeds and more with Kontact
Kontact is a fullblown PIM (personal information management) suite, combining e-mail, calendar, news feeds, addressbook and more in one place. Each of the Kontact components (KMail, KOrganizer, Akregator etc.) can also be used as standalone applications.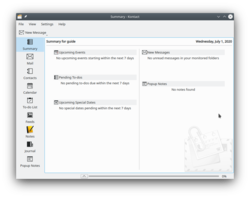 Alternatives to consider: Mozilla Thunderbird
Send your comments via e-mail to admin [at] opensuse-guide.org